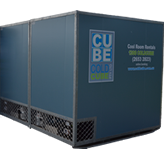 Features
Internal release door lock
Hospital grade non slip flooring
Ground level access
Electrical safety switch
Shelving
Dimensions
8′ x 5′ ft
2.4m L x 1.5m W x 2.1m H
Total height 2.5m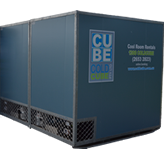 Features
Internal release door lock
Hospital grade non slip flooring
Ground level access
Electrical safety switch
Shelving
Dimensions
10′ x 6′ ft
3m L x 1.8m W x 2.1m H
Total height 2.5m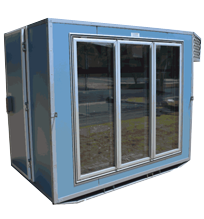 Features
Glass doors
Adjustable gravity fed shelving
Internal release door lock
Ground level access
Electrical safety switch
Dimensions
8′ x 5′ ft
2.4m L x 1.5m W x 1.8 H
Total 2.1m
Need skid hire in Melbourne?
At Cold Cube we specialise in cool room skid hire in Melbourne. As a company we pride ourselves on being the market leaders in providing the next generation of cool rooms. With a dedication to design and functionality, the "skid style" cool room has become a customer favourite. It possesses many advantages over the conventional trailer style cool room and is designed with easy access in mind. The ground level location lends itself to long-term hires and with smaller external dimensions it can fit in places a trailer just can't.
Why hire a skid?
Catered events
Are you planning a catered event but don't have anywhere to keep the food chilled? When you are catering for a special event like a wedding, birthday party, engagement, exhibition or even a corporate event, safe food handling is a must. To ensure all catered food is kept fresh during the event, a skid cool room is a necessity. Our cool room skids for hire can be used in various venues.
Extra space during peak periods
Have you run out of room in your shop to store food? During peak times of the year like Christmas, many shops find themselves with extra stock that needs to be refrigerated and nowhere to put it. Whether you're a deli, butcher or supermarket, we offer cool room skids for hire that will provide a solution for your refrigeration dilemma.
Alternative cooling during renovations
There's nothing worse than living through a renovation without a cool room or freezer. If your kitchen is being renovated, or you own a pub, restaurant or café make sure you give us a call. Our cool room skids will keep your food fresh and cool. At this stressful time we will ensure there is one less thing to worry about.
Races
There's nothing better than chilled champagne and delicate canapes at the races. To make these delights possible, a cool room skid must be hired. Our cool room skids are normally hired out at the races to ensure all food and beverages are kept at the right temperature, so punters can focus on the important things like the racing fashion and putting on a bet.
Long and short-term hire
Cold Cube works with you to provide the best cool room skid hire plan for your situation. Whether you require a brief hire for an event, or need the skid on a long-term basis to cope with renovations, the choice is yours.
Whether you're planning a catered event, own a shop that needs more refrigerated storage, or are living through a kitchen renovations, Cold Cube is for you. We pride ourselves on providing a reliable solution for your cooling needs. If you would like to learn more about our cool room skid hire in Melbourne, contact the friendly team at Cold Cube today on 1300 265 328.