TRAILER COOL ROOM HIRE MELBOURNE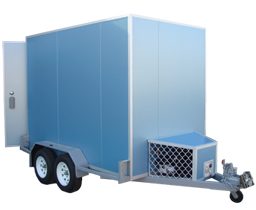 Features
Internal release door lock
Hospital grade non slip flooring
Entry steps
Safety support legs
Electrical safety switch
Shelving
Dimensions
10′ x 6′ ft 3m L x 1.8m W x 2.1m H Total height 2.8m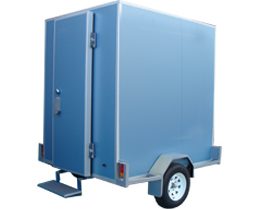 Features
Internal release door lock
Hospital grade non slip flooring
Entry steps
Safety support legs
Electrical safety switch
Shelving
Dimensions
8′ x 6′ ft 2.4m L x 1.8m W x 2.1m H Total height 2.8m
The professionals in trailer cool room hire in Melbourne
Cold Cube specialises in trailer cool room hire in Melbourne. It is our aim to make your event run smoothly, so you can enjoy the special occasion without having to worry about the food and drink. By hiring our cool room trailers, you can kick back and enjoy the festivities with cold drinks and fresh food. With no reasons to stress about food or drinks, you have time to focus on what's important, and that's having a good time. At Cold Cube we pride ourselves on providing trailer cool rooms that give you versatility and practicality. Our trailers are fully featured for safety and reliability, and meet all Australian safety standards. We ensure they are kept clean and sanitised to the highest level.
Why hire a trailer?
Corporate events
A corporate event is not complete without delicious food and chilled drinks. To ensure you wine and dine your guests properly, the catering must be kept fresh and cold, making trailer cool room hire vital. Our portable cool rooms are highly versatile and can accommodate a range of events.
Music festivals
Nothing beats having a cold beer at a music festival. Whilst listening to the tunes most partygoers knock back countless chilled beverages whilst having an amazing time. To keep these partyers happy, a trailer cool room is essential to keep the cold beers chilled.
Weddings
It is the biggest day of the bride and groom's lives and one that requires champagne on ice. It is also a day where everything needs to be perfect. If you are planning a wedding and need a place to chill the food and drink, hire a trailer cool room.
Fetes
A fete is a favourite with children for indulging in delicious snacks and treats. If your school is holding a fete and needs a place to store food and drinks, a cool room trailer is the solution. You can easily transport the trailer to your location and use it on site.
Sporting events
Ensure your sporting club turns over enough cash at half time by keeping drinks and pies and pasties fresh in a cool room trailer. The great thing about our trailers is they are easy to access and very versatile.
Short-term hire
We offer short-term hire on our cool room trailers, to suit your specific needs. You can talk to our professionals about the various short term hire options.
For your next big event or function, hire a trailer cool room. They will provide you with a flexible and versatile cooling solution. To find out more about our trailer cool room hire in Melbourne, call the professional team at Cold Cube today on 1300 2653 2823.